Various, Now We Are Ten
The Observer Review, July 14 2007
by Simon Reynolds
For more than a decade, 38-year-old Brit Jonny Trunk has trawled charity shops, bargain basements and jumble sales, sifting the dreck for bygone oddities and queer delectables. Chasing down obscure objects of collector desire or stumbling serendipitously on unknown treasures, Trunk has then tracked down the music's elderly creators (invariably languishing in penury) and prised the right-to-reissue from their bony mitts.
Jonny Boy specialises in genres of marginal reputation: never-before-available soundtracks from horror movies such as
The Wicker Man
, incidental music from kids' TV programmes such as
The Tomorrow People
, fey folk-pop, library music. His sensibility lies at the exact intersection of Stereolab, Saint Etienne and el Records, but if that sounds too tasteful, you've got to factor in Trunk's penchant for period pornography. Not only did he reissue Mary Millington's spoken-word records, he made a brand new one,
Dirty Fan Male
, which involved an actor friend, Wisbey, reading out lewd letters sent to Trunk's sister, a soft-porn starlet, and her colleagues. One appears as a hidden track at the end of this excellent compilation: 'I think that my tongue would have to be surgically removed from your mouth-watering botty ...'
There's a serious core behind all this dotty whimsy: Trunk's most crucial excavations have been works by maverick composers such as Basil Kirchin, Delia Derbyshire and Desmond Leslie, pioneers of a peculiarly English form of musique concrete and analogue electronica that often sounds like it was cobbled together in a garden shed. The late Kirchin features with the uncharacteristically wispy femme-pop of 'I Start Counting', while the even later Derbyshire briefly appears with a 37-second synth-interlude. But overall,
Now We Are Ten
downplays electronics in favour of acoustic instrument-based soundtracks and light-on-the-ear Brit-jazz, resulting in an unusually coherent compilation.
Highlights include the pastel-toned poignancy of 'Dark World' and 'Nature Waltz' by Sven Libaek, the fragrant waft 'n' flutter of Paul Lewis's 'Waiting For Nina' and Trunk's own 'O Zeus' (meta-library music woven out of samples from that incidental music genre typically churned out of Soho studios by moonlighting composers). If the cloying flute of John Cameron's theme from
Kes
requires the sour bleakness of the movie to offset its sweetness, Vernon Elliott's
Clangers
music has a stand-alone magic.
Rescuing such figures as Elliott and Kirchin from history's rubbish tip is a valuable feat of cultural archaeology, and
Now We Are Ten
is the sweet sound of someone giving their own trumpet a well-deserved blow. Fnarr fnarr.
Trunk Records
for an art magazine whose name I cannot remember, 2007
by Simon Reynolds
The record business may not have much of a future, but it's got one hell of a past: sales are plummeting, sending the industry into a state of panicked paralysis, but one of the few growth zones is 'salvage'. That's writer John Carney's term for the modus operandi of labels like LTM, Soul Jazz and Anthology, who comb the back catalogues of defunct record companies in search of out-of-print nuggets. Then there's Trunk, currently celebrating a decade of quirky excavations with the compilation Now We Are Ten.


The label is not just one man's vision, it's one man (38-year-old Jonny Trunk, nee Jonathan Benton-Hughes) finding an ingenious way of making his unhealthy obsessions-- specifically, the compulsion to dig in the dusty crates for vintage vinyl--work for him. "Records have been good to me," he notes wryly but with a note of genuine gratitude. In addition to running his much-admired label, he also writes about music and deejays frequently, in clubs and on his regular show for Resonance FM.
In recent years, the word "curate" has become a slightly annoying buzzword in the hipster music scene, with people pompously describing functions hitherto designated more prosaically as
"pulling together a compilation,"
"running a record label," or "booking bands for a festival" in terms of curating. Still, if anybody deserves to be thought of in these terms, it's Trunk. Along with likeminded operatives such as Saint Etienne, Broadcast, and The Focus Group, Trunk explores music's archives in search of lost futures and alternate presents. As much a historian as an entrepreneur, he remaps the past, finding the paths-not-taken and the peculiar but fertile backwaters adjacent to pop's official narrative.
Trunk got into the creative curatorship game with its very first release,
The Super Sounds of Bosworth
(1996), which was also the world's first compilation of library music. Bosworth is the company that pioneered the library concept: incidental music for use in radio, cinema advertisements, industrial films, and other non-glamorous contexts, sold by subscription not in shops, and issued in institutional-looking sleeves with helpful track descriptions ( 'neutral underscore', 'pathetic, grotesque'). By the early 1990s, library records from the Sixties and Seventies had become highly prized by hip hop producers for their
sample-ready cornucopia of crisply-recorded and session musician-played beats, fanfares, and refrains.
In addition to lushly orchestrated soundtrack-style themes and hot snippets of funk and jazz, the library companies generated plenty of wacked-out experimental sounds, often using analogue synthesizers. That's what snagged Trunk's attention. As a child, the first melody he ever sang was the
Doctor Who
theme, whose electronic rendition by Delia Derbyshire of the BBC Radiophonic Workshop sent shudders of anticipatory fear through millions of kids' bodies every week.
Later, as a teenager, Trunk became obsessed with the weird electronica "played on Open University programs, like when there was a sequence about microbes".
But he could never find out who made it. Then "someone played me a Bosworth album and I thought, 'that's it, the Open University sound!". Spotting the company's address on the back of the record, he "just walked around the corner" to their
Central London
office and "knocked on the door", finding inside a "Hammer House of Horror scene" of decades-old dust and teetering piles of sheet music.
The name Trunk actually comes from friends teasing him about being "nosy". "There's a part of me that wants to be a detective. I like digging about." His sleuth work tracked down maverick composers like Basil Kirchin and
Desmond Leslie. The latter's
Music Of The Future
(1955 – '59), homespun musique concrete recorded in the late 1950s, is one of the label's great discoveries. An ex-Spitfire pilot and UFO expert, Leslie was a non-musician who fancied sparring with Pierres Schaeffer and Henry. "A member of the landed gentry," says Trunk, "he could afford to throw rotating fans and buckets of sand into pianos".
Another recently reissued gem is the library album made by Delia Derbyshire (moonlighting from her Beeb dayjob under the alias Russe) and later used to soundtrack the children's TV science fiction series
The Tomorrow People
(1973). The library obsession culminated with an attractive compendium of library sleeves Trunk pulled together for the design book publisher Fuel. Ranging from stark modernist grids to surreal photocollages, from kitschadelic Op Art to bizarrely clumsy drawings that exert a macabre compulsion akin to outsider art,
the artwork
collected in
The Music Library
(2005) show
how library covers
could be as
inadvertently avant-garde
as the music it
packaged
. Which isn't so surprising, given that both were produced in factory conditions where utilitarian practicality and experimental impulses coexisted on a tight budget.
On Trunk's website there's the slogan: 'music, sex, and nostalgia'. For as long as he can remember, Trunk has been susceptible to a bittersweet attraction to bygone things: while his friends followed the latest pop fashions, as a child he was into "Henry Mancini's The Party soundtrack… I don't feel the new market as much as the old one. I'm drawn to old things."
As for sex, that comes into it through his interest in vintage porn, which he claims is all about the period aesthetics rather than any prurient use-value. "You can't beat a good
Mayfair
", Trunk chuckles, before explaining that true connoisseurs hunt for late 1960s periodical Zeta, with its stylish, cutting-edge photography (women in scrapyards).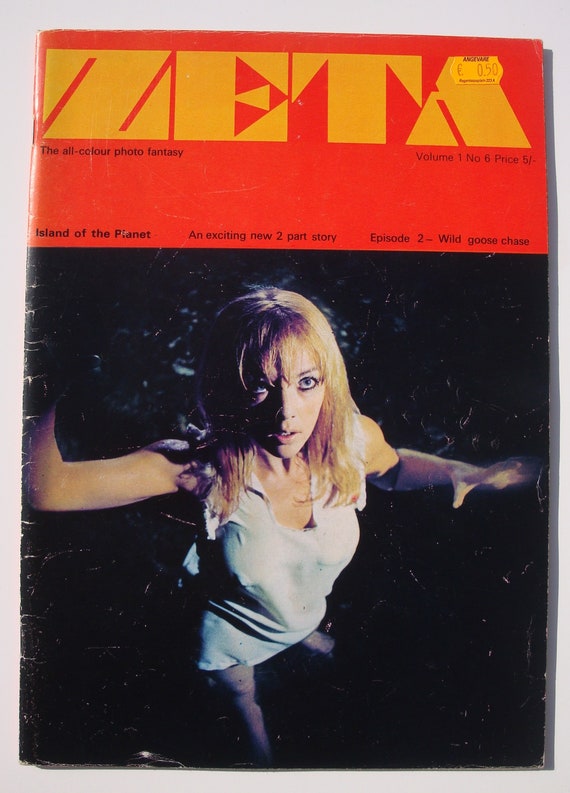 As with record collector culture, there are fashions on the vintage skin mag scene: "1980s rude mags, that's the new hot zone -- all DayGlo knickers and shoulder pads." Trunk put out
Flexi Sex
(2003), a collection of the ultra-lewd spoken word flexi-singles porn mags once stuck between their soon-to-be-stuck-together pages. Porn informed one of the label's few non-reissue releases,
Dirty Fan Male
(2004), which involved an actor known as Wisbey reading out the filthy fan letters sent to British softcore pornstars, in an assortment of comedic voices. The CD gradually became a cult item, inspiring Trunk to turn it into a stage show, which played at the Edinburgh Fringe Festival in 2004 and won the Guardian's Best Concept award.
To 'music, sex, nostalgia', three other Trunk keywords could be added.
Humour: a good-natured whimsy pervades the whole project.
Britishness: nearly everything on the label was made in the UK and there's an affectionate fascination for all aspects of this country's post-War popular culture (the label's website is packed with Anglo curios
Trunk has stumbled upon, from an album by Stanley Unwin, the comedian who spoke in an invented gobbledygook language, to a record by the show jumper Harvey Smith).
Keyword #3 is "melancholy":
Now We Are Ten
teems with softly sad film music by composers like John Cameron and Sven Libaek.
Cheesy sleaze and sepia-toned melancholy seem unlikely bedfellows at first glance. But in his 1935 travel book
Journey Without Maps,
Graham Greene put his finger on or near the place where musty and lust meet. He wrote about how "seediness has a very deep appeal ... It seems to satisfy, temporarily, the sense of nostalgia for something lost; it seems to represent a stage further back"
With their aura of wistful reverie and faded decay, the sounds exhumed by Trunk offer a portal into this nation's cultural unconscious.
see also this very interesting recent chat with Mr Trunk on the story of how he tracked down The Wicker Man soundtrack