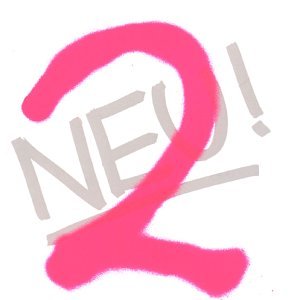 NEU!
Neu!
Neu! 2
Neu! 75
Spin, 2001

By Simon Reynolds
Neu! has got to be one of the most beautifully apt names to ever grace a band. The Dusseldorf duo's cruise control surge of steady-pulsing drums and quicksilver guitar creates the sensation of gently hurtling into a dazzling future--a world where everything is glistening and newborn. Forming Neu! in 1971 as a breakaway offshoot from Kraftwerk, drummer Klaus Dinger and guitarist Michael Rother pioneered the style that critics christened "motorik": a unique twist on the thread of white line fervor running through rock'n'roll, from Chuck Berry's "No Particular Place To Go" to Canned Heat's "On The Road Again" to The Modern Lovers's "Roadrunner". Neu!'s music tingled and throbbed with urgent anticipation, yet exuded a distinctly German serenity. Appropriately, the culture that had invented the autobahn also spawned, with Neu! and Kraftwerk, the most sublime sonic expressions of motion-as-state-of-grace. Now, after years of only being available as bootlegs, Neu!'s motorik trilogy gets an official CD reissue on Astralwerks.
"Hallogallo", the first track on the self-titled debut, is a wordless manifesto calling for fresh frontiers, new horizons, cultural renaissance. Ten minutes long, built from just Drummer's pounding drums and Michael Rother's iridescent overdubs (Neu! had no bassist and seldom used vocals), this is supremely transcendent and entrancing rock. Like the Velvet Underground a few years earlier and Television a few years after, Neu! sketched a blues-less blueprint for rock's future, and artists from Bowie/Eno to PiL, the Fall, and Stereolab picked up their glittering trail of clues. On "Hallogallo" and "Fur Immer" (the equally exhilarating and lengthy epic that kickstarts
Neu! 2
), Dinger & Rother's approach is minimal-is-maximal. What sounds initially like mesmerising monotony on closer listens is revealed as an endlessly absorbing tapestry of subtle shifts and intricate inflections. Dinger especially was the maestro of playing rhythmic accents around the basic four-to-the-floor beat while maintaining the feel of monolithic relentlessness.
Motorik wasn't the only card in Neu's hand, though. The grinding clangor and harshly chiming harmonics of the debut's "Negativland" flash-forwards to Sonic Youth's
EVOL
and
Sister
. "Lila Engel," from
Neu! 2
, is a neanderthal stomp that might, in some parallel universe, have displaced "Rock'n'Roll, Pt 2" as every sports fan's fave yell-along. And that album's entire second side consists of drastically accelerated and slowed-down versions of the single "Neuschnee" and its B-side "Super": a surprisingly entertaining and conceptually stimulating manoeuvre, albeit born of sheer desperation (Neu!'s recording budget ran out too soon!).
Neu! 75
, the duo's masterpiece, is also their most placid record, its first side gradually decelerating from the poignant, piano-cascading canter of "Isi" through the snowcapped majesty of "Seeland" to the beat-less seascape lull of "Leb' Wohl," all breathless blissed gasps and lapping surf. But really it's "Hallogallo", "Fur Immer," "Neuschnee," and the pedal-to-the-metal proto-punk roar of "Hero" (from
Neu! 75
) that represent Dinger & Rother's claim for a place in the rock canon. No band has ever surpassed these hymns to the glory of going-nowhere-fast.
NEU!
Neu!
Neu! 2
Neu! 75
Uncut, 2001

By Simon Reynolds
Don't wanna folderol about Neu!'s pervasive influence and ahead-of-their-timeness. Yeah, the roll call of debtors is long (Bowie cribbed notes for
Low/Heroes
, Stereolab's hocked up to their elbows, Spiritualized blah Sonic Youth yawn...), but these monumental records
STAND ALONE
in their astonishing beauty and soul-smiting might. Don't even wanna blather overmuch about Neu!'s innovativeness, 'cos that perpetuates Krautrock's image as sound-laboratory research, whereas this stuff was TORN from the heart-and-souls (muscles 'n' ligaments too: this is
physical
music) of Michael Rother and Klaus Dinger--a chalk/cheese, yin/yang duo who didn't get on except when making music together. Indeed, bad blood's the reason it's taken so long for these official re-issues of Neu!s oeuvre to materialise.
No guff today, then, just gush. Briefly members of Kraftwerk, guitarist Rother and drummer Dinger released their debut as Neu! in 1972. 10 minute opener "Hallogallo" is both blueprint for their "motorik" sound and a wordless cultural manifesto. Rother's talked about Neu! being inseparable from the late Sixties/early Seventies moment in Germany (student radicalism, anarcho-hippie communes, Red Army Faction, etc) and truly their music tingles with hope-against-hope idealism, yearnings for rebirth, breakthrough, new frontiers. With Dinger setting the beat on cruise-control for the heart of the sun, Rother overdubs a golden horde of guitars: gaseous with sustain, light-streaks of psychedelically-reversed tone-color, glistening flecked rhythm chords.... The result is the whitest music since the Velvets yet oddly close to the black aesthetic Amiri Baraka dubbed "changing same": the groove that just keeps on keepin' on, yet absorbs you with its endlessly shifting inflections and accents. Rest of the debut's less motorik, more avant-rock: "Sonderangebot" could be an alternative soundtrack to the alien obelisk scene in
2001: A Space Odyssey
, while "Negativland" meshes clockwork bass-and-drum pulse-groove with howlround guitar-scree to create an unusually disturbed and menacing vibe for this usually rhapsodic group.
Neu! 2
basically reprises the debut's winning formula--at least until the budget ran out, and Rother and Dinger had to fill up Side Two with sped-up and slowed-down versions of a recent single! It opens with 11 minute epic "Fur Immer", whose driving Dinger-pulse seems to churn up a radiant slipstream of Rother-dust in its wake. More weirdshit follows: found sounds, eerie ambience, interrupted by the caveman stampede of "Lila Engel" (imagine "Rock'n'Roll, Part 2" meets "Sister Ray"). Then it's onto the 78 rpm and 16 rpm versions of "Neuschnee" and B-side "Super": not as irritating as you'd expect, highly listenable actually, and, sheer desperation aside, conceptually clever in John-Cage-meets-turntablism stylee.
The fissile Neu! separated for a few years, then reconvened for one last blast: their masterpiece,
Neu! 75
. Piano-and-synth instrumental "Isi" could be Krautrock's "Penny Lane", except it's wistful for the future rather than nostalgic. "Seeland" is like a first-class sunset, Rother's celestial pageant slowly unfurling over Dinger's ceremonial stealth. "Leb'Wohl" lowers your metabolism further still with its becalmed oceanside idyll, then "Hero" revs up again as its glorybound protagonist hurtles down the road-to-nowhere in a dazzling blare of chord-strum and wind-tunnel vocals. After Neu!'s final disintegration, Zen-scented Rother followed the "Seeland" path into a pretty but placid solo career, while velocity boy Dinger contined Neu!'s proto-punk speedfreak side with his terrific band La Dusseldorf. But it's with the holy Neu! trinity that Rother and Dinger etched their lofty perch in the rock pantheon. There's nothing "educational" or difficult about this music: Neu! should thrill anybody who's ever felt rock's rush.
These reissues dedicated to Klaus Dinger, sonic visionary and one of rock's greatest drummers. RIP.